Are you a homeowner wondering how to sell a house with foundation problems? The good news is that there are still many home buyers who look for damaged homes specifically, so they can snap up a bargain, repair the property, and sell it for a profit. Foundation repair is also not as expensive as you might assume, allowing you to make those repairs before putting a home on the market.
While a real estate agent is the best source of information when it comes to selling a home in your neighborhood whatever its challenges, you might note some suggestions for selling a house with foundation problems. You can then discuss your options with that agent or a foundation repair contractor and make the best decision for you and your family.
How to Sell a House With Foundation Problems
Your first step to selling a house with foundation problems is to schedule an appraisal. Note the foundation issues with the appraiser and ask if they could tell you how much that damage affects the property's selling price, as you might be surprised to find that minor cracks and other such issues don't lower its value as much as expected!
You also want to have the foundation damage itself inspected and evaluated by a foundation repair contractor. A foundation contractor can note the best repair options and how much it would cost to bring your home's foundation back to a better condition. A home inspector can also note if the home passes inspection due to its foundation damage.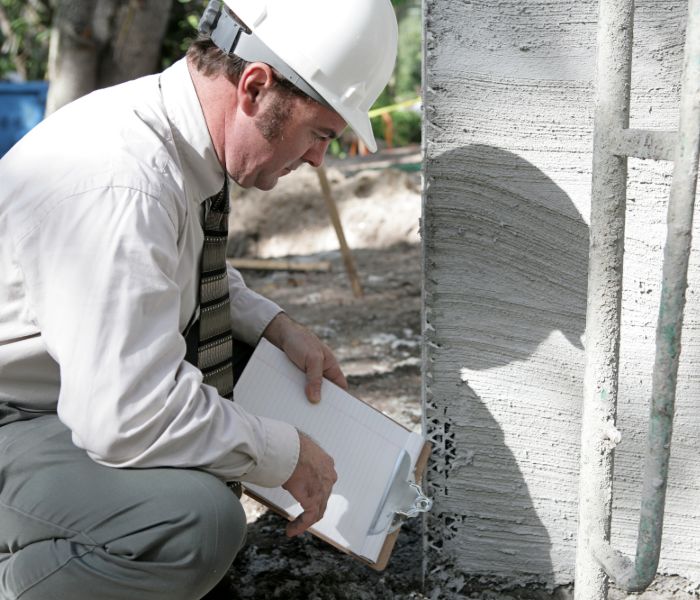 Once you have detailed information about the foundation damage and its potential repair cost and how it's affecting home values, you can then decide if you want to make those repairs before selling your home or try to sell it as-is. If you do sell it as-is, you need to be prepared to lower the asking price, to compensate for that damage.
You might also ask your real estate agent about advertising for cash-only buyers, as many banks won't offer mortgages for homes with severe foundation damage. Advertising for cash-only buyers alerts potential buyers to the fact that the home has issues that will probably interfere with getting a mortgage. Your real estate agent can advise if this would be the best option for selling your property!
Is It Hard to Sell a House With Foundation Repairs?
If you decide to invest in foundation repairs, don't assume that you'll be lowering the home's value or scaring off potential buyers! Most foundation repair methods including underpinning, house leveling, and carbon fiber straps for bowing basement walls all last for decades if not indefinitely.
Replacing old pier and beam foundation details can also mean a new foundation that lasts as long as the home itself! New steel piers and beams can even provide more support than outdated wood posts. In turn, you might not find it impossible or even difficult to sell a home that's undergone foundation repairs.
Do Sellers Have to Disclose Foundation Issues?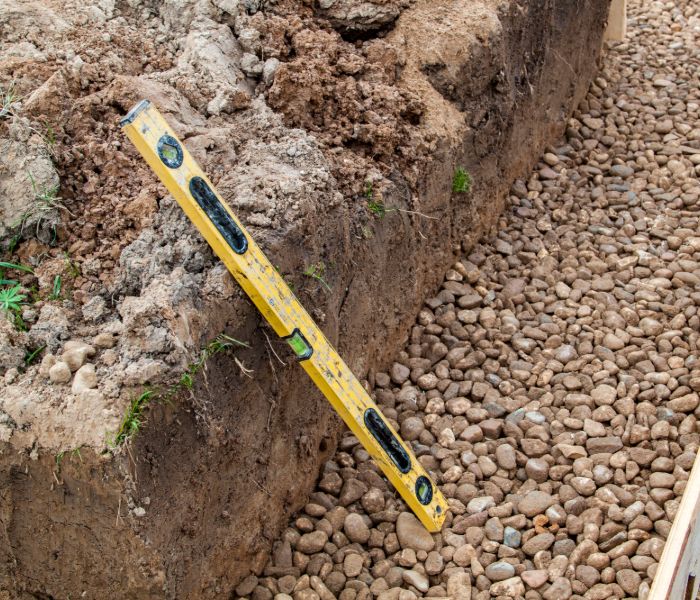 While real estate law varies from state to state, it's quite likely that a home seller is legally obligated to disclose serious damage to a house on the market, including foundation issues. In many such instances, a seller is obligated to disclose such issues even if they think the buyer should have known about them. In Florida, as an example, sellers are obligated to disclose any issues they know about at the time of sale. (see https://www.nolo.com/legal-encyclopedia/legal-remedies-if-home-seller-lies-conceals-defect-florida.html).
Your real estate agent can usually tell you what you're legally obligated to disclose. If you decide to sell a house yourself, talk to a real estate lawyer first, or err on the side of caution and disclose all foundation issues to potential buyers.
Is Foundation Repair Covered By Insurance?
Homeowners insurance doesn't cover repairs needed due to everyday wear and tear, or for damage due to age, exposure to the elements, and the like. Your insurance policy also won't cover repairs needed because of your neglect! If you've put off needed foundation repair or have failed to ensure proper drainage along your property, you are not likely to get reimbursed for the cost of foundation repairs.
On the other hand, if your foundation was damaged due to vandalism, a car running into the home, or other such events, your policy might cover the cost of repairs. To find out if you can get reimbursed for your foundation repair costs, consult with your agent.
Financing a Home with Foundation Problems
While banks might not finance homes with foundation problems, note a bit more information on mortgage loans so you know what to expect when it comes to finding a buyer for your home. First, remember that banks typically offer loans for whatever amount they think they could recoup if they needed to foreclose on that property and resell it.
In other words, a bank won't usually write a $250,000 mortgage on a home that might sell for only $150,000! If you're asking full price for your home and refuse to lower that price to compensate for needed foundation repairs, a buyer might not qualify for a loan in the amount you expect.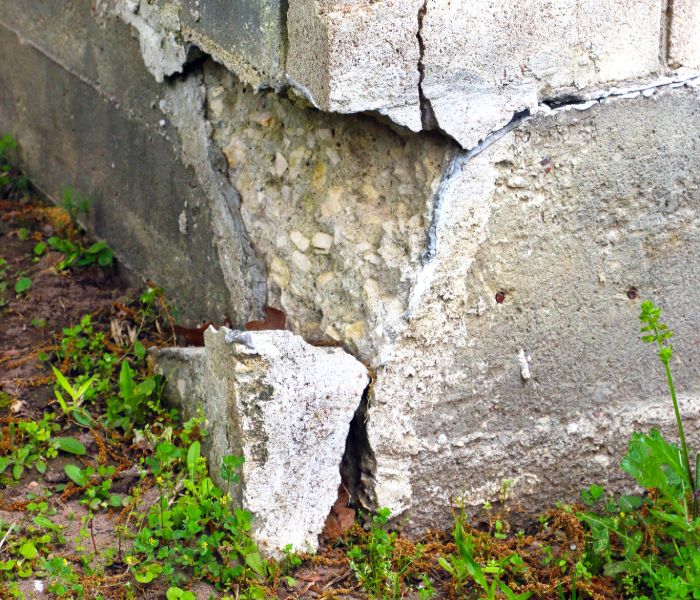 Lenders also offer loans for homes they know they can resell if the buyer should default on that loan. Severe foundation damage might limit their potential buyer pool, so a buyer might have a difficult time obtaining a mortgage for such a property.
However, this isn't to say that a buyer could never get a mortgage for a home with foundation issues. If that buyer has other collateral they might use to secure the loan, a lender might offer to finance. The buyer might also be able to put a sizable down payment on the home, reducing their needed mortgage amount and risk to the lender.
It's also vital to remember that not all foundation damage is alike! Some concrete cracks only need minor patching, while shims can provide support for pier and beam foundations. Steel pins usually only cost $700 to $1000 each; if the home only needs one or two pins for repair, a lender might not see that as a costly risk, so the buyer might then obtain a mortgage. Talk to a real estate agent or appraiser about your property and how foundation damage might affect a buyer's chances of obtaining a mortgage if you still have concerns.
Living in a House with Foundation Damages
A home with foundation damage is not likely to just collapse like a house of cards! A home's framing including its wall studs, roof rafters, and subflooring all keep it intact even if the foundation is weak and damaged. This doesn't mean, however, that you can just ignore that damage and assume you and your family are safe in the home.
One vital consideration is that a home might sink or settle along damaged foundation sections. As it does, it pulls on interior surfaces including walls, floors, and ceilings. Ceiling tiles might crack and then collapse, as gravity continues to pull on those broken sections and their nails can no longer hold their weight. Buckled floorboards and loose tiles can also present tripping hazards.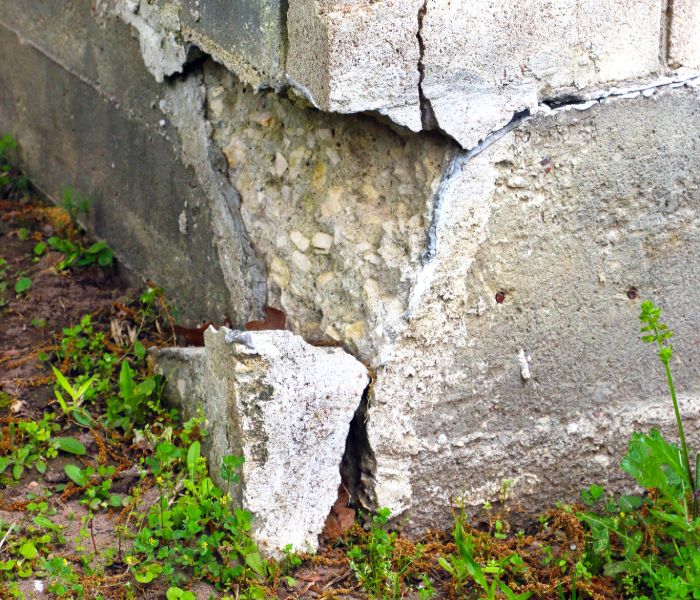 A water-damaged and cracked foundation also continues to absorb moisture over time so that basement walls might eventually begin to bow inward. If left unchecked, those walls might eventually crumble and collapse, risking injury to anyone standing nearby!
Foundation cracks also let in moisture that increases the risk of mold in the home. Mold is not just unsightly and damaging to framing and drywall, as it's also very unhealthy to a home's occupants! To avoid these risks, don't overlook cracks, chips, and other foundation damage but have those issues addressed as quickly as possible.
Added Tips for Sell a House With Foundation Problems
If your home has foundation issues, it's vital to understand that buyers might already be hesitant about bidding on the property. That's why you need to ensure you're doing everything possible to stress the home's positive features! Ensure your marketing material mentions its location and close proximity to nearby restaurants and schools, its size, updates, and lowered price, without trying to hide information about its foundation damage.
Your home should also look and feel as welcoming as possible to potential buyers. Ensure you've had the floors cleaned and shampooed professionally. Invest in exterior power washing. You might also have a landscaper tend to the lawn and flower gardens so you know they look their best and have a professional cleaning company give the home a "once over" before open houses.
A home stager can also ensure the house looks as appealing as possible. A home stager will ensure you get rid of clutter and personal items that detract from the home's appearance and might suggest affordable ways of updating it such as repainting or even renting furniture for showings.
A real estate agent can also help guide you through the process of selling a home with foundation issues. He or she might suggest ways of marketing the home to appeal to those looking for "fixer-uppers," and ensure no vital information is hidden so you don't face legal issues down the road! Their advice can ensure a smooth selling process, and that you'll get maximum profit for your home no matter its needed repairs.
Cincinnati Foundation Repair & Waterproofing is happy to offer this information to our readers and hopefully it explained how to sell a house with foundation problems. If you're near the city and suspect foundation damage to your home, turn to our trusted Cincinnati foundation repair contractors! We ensure reliable repairs, using only high-quality materials designed for durability. To find out more, give us a call today!